Game Description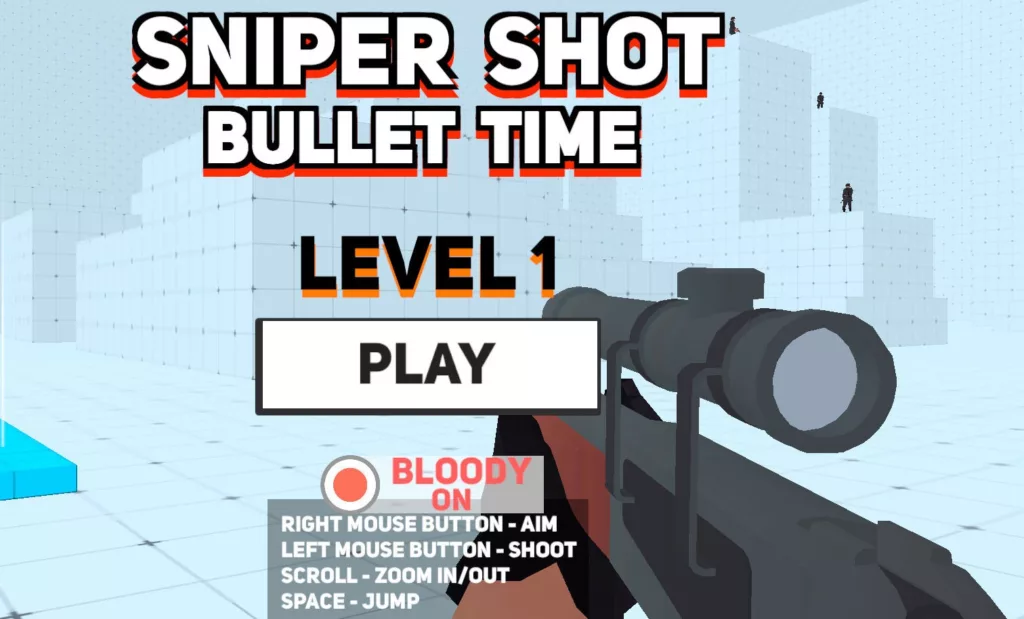 "Sniper Shot: Bullet Time" offers players an immersive experience in the art of precision shooting and strategic gameplay. With challenging environments as the backdrop, the game presents thrilling sniper missions that demand accuracy, patience, and tactical acumen.
Game Controls
Aim: Drag the screen or use Mouse movement
Zoom In/Out: Pinch or use Scroll wheel
Fire: Tap or Left-click
Reload: Reload button or press R key
Bullet Time (Focus Mode): Activated through specific in-game mechanics
How to Play
Precision Shooting: Master the sniper rifle for distant targets, requiring precision and well-timed shots.
Bullet Time: Utilize Bullet Time strategically to slow down time, facilitating critical shots in intense scenarios.
Mission Objectives: Engage in diverse missions, from eliminating specific targets to safeguarding allies and countering threats.
Tips and Tricks
Patience and Accuracy: Take your time for accurate aiming, especially in challenging situations.
Bullet Time Mastery: Strategically deploy Bullet Time for precise shots or efficient handling of multiple targets.
Strategic Planning: Evaluate the scenario, prioritize targets, and devise a comprehensive plan for mission success.
Equipment Upgrades: Enhance your sniper capabilities by upgrading weapons and gear, aligning them with your unique playstyle.
Game Developer
"Sniper Shot: Bullet Time" is developed by a team renowned for creating immersive and challenging sniper-focused gameplay experiences.
Game Platforms
Accessible on various platforms:
How to Play Unblocked
To access "Sniper Shot: Bullet Time" without limitations:
Official Sources: Download the game from authorized app stores or the developer's website.
VPN Solutions: Utilize reputable VPN services to bypass network restrictions and enjoy uninterrupted gameplay.
Proxy Servers: Navigate around network blocks using proxy servers to ensure seamless access to the game.
"Sniper Shot: Bullet Time" guarantees an intense and strategic sniper experience, requiring precision and tactical mastery to conquer challenging missions.