Game Description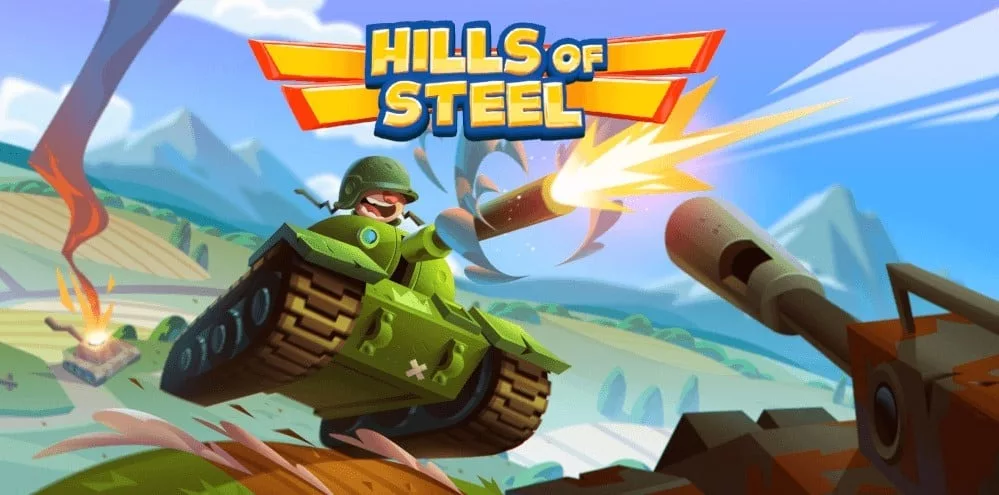 Hills of Steel is a high-octane, physics-based mobile game that offers a unique blend of tank warfare, strategic gameplay, and intense combat. Developed by Superplus Games, it provides an exhilarating gaming experience that's sure to keep you on the edge of your seat.
Game Controls
The game boasts user-friendly controls to ensure an enjoyable gaming experience:
Accelerate/Reverse: Utilize the throttle pedal on the right side of the screen to move your tank forward or backward.
Tilt: Tilt your device left or right to adjust the angle of your tank's cannon.
Fire: Tap the fire button to release powerful projectiles at your adversaries.
Special Ability: Activate your tank's unique special ability by tapping the corresponding button when it's charged.
How to Play Hills of Steel
To dive into the action-packed world of Hills of Steel, follow these steps:
Select Your Tank: Kick things off by choosing your tank. Each tank comes with its own set of abilities and characteristics, so make sure to pick one that suits your preferred playstyle.
Navigate the Terrain: Drive your tank across challenging, hilly landscapes while collecting coins and power-ups. Be mindful of steep slopes and obstacles that can hinder your progress.
Engage in Battles: Encounter enemy tanks and engage in thrilling battles. Aim your cannon by tilting your device and fire to eliminate your opponents.
Utilize Special Abilities: Employ your tank's special ability strategically to gain an edge in battle. Some abilities offer protective shields, while others deliver devastating attacks.
Collect Rewards: Reap the rewards of your victories, which can be used to upgrade your tank or unlock new ones. Customizing your tank can significantly enhance your performance.
Challenge Bosses: Take on formidable boss tanks in epic showdowns to advance through the game's levels and earn even greater rewards.
Team Up: Consider joining a clan or creating your own to collaborate with other players. Teamwork can be a potent asset in Hills of Steel.
Tips and Tricks
Becoming a master in Hills of Steel requires skill and strategy. Here are some valuable tips to elevate your tank-commanding prowess:
Aim Carefully: Precision is key. Take your time to line up your shots and target your enemies accurately for maximum impact.
Upgrade Wisely: Make thoughtful choices when upgrading your tank. Focus on enhancements that align with your playstyle and strengths.
Ammo Management: Don't squander your shots. Every projectile should count, so keep a vigilant eye on your ammo count.
Strategic Movements: Utilize the terrain to your advantage. Position yourself behind cover and use the landscape to outmaneuver your opponents effectively.
Teamwork: Collaborate with your clan members for well-coordinated attacks and increased chances of success in team battles.
Complete Missions: Don't overlook daily and weekly missions; they offer valuable rewards that can accelerate your progress in the game.
Game Developer
Hills of Steel is proudly developed by Superplus Games, a mobile game development company known for creating entertaining and addictive games across various platforms.
Game Platforms
You can dive into the world of Hills of Steel on multiple platforms, including iOS and Android. Simply download the game from the App Store or Google Play Store to embark on your tank warfare adventure. Whether you're on the move or relaxing at home, Hills of Steel delivers thrilling action and strategic gameplay right at your fingertips.